clear appointment management
Create appointments for different users or groups, control resources and get confirmations for appointments. With the calendar function you have an overview of all entries incl. property and address links.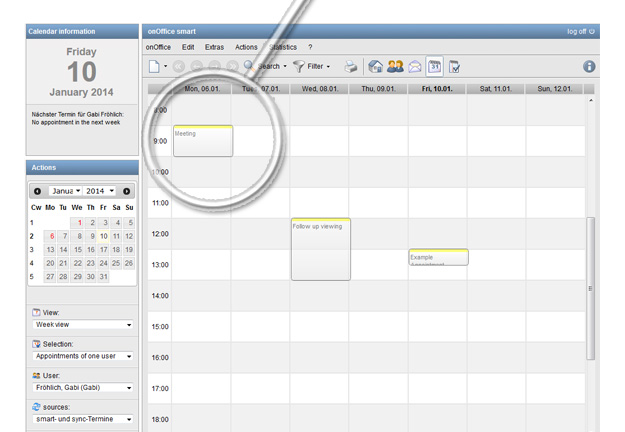 at a glance
create appointments for different users or groups and conveniently allocate the resources
multiple links of an appointment with address and property data records
simplify your office communication with a clear calendar design
comprehensive verification in your broker book with automatic appointment confirmation
all appointments at a glance
With onOffice smart appointment management you are provided with a comprehensive overview of all company appointments. You can choose whether you just want to see your own appointments, those of all users or those of a specific group. Colored accentuations give regard to the different entries made. Furthermore you have the option of seeing the appointments in a day or week view.
more than just a calendar
Next to creating and editing appointments you have the additional option of linking the type, city, several users as well as resources. Of course you can enter as one would usually do the respective data address record and property. Supplementary free fields round of the options for calendar entries so that you have all relevant appointment information in one mask.
a calendar for the entire company
In order to provide a swift and straightforward communication within your company the appointments for every employee in your office are visible as long as they have not been marked as "Private". The comment input field within a created appointment provides the option of exchanging relevant information between the participants. In addition to this all involved parties are reminded of the appointment in tome via the calendar function.
Use onOffice smart appointment management also for upcoming appointments. Administer and organize vacation periods, birthdays, public holidays and other internal events.
automatic appointment confirmation
Get potential buyers to confirm the agreed appointments via the automatic confirmation form. The confirmation is saved in the broker book so that you have verification for the appointment.
Furthermore you have the option to link the respective property address with the appointment and confirmation link so that the recipient receives all linked appointment dates collectively via e-Mail.